Homeschooling Facts
Despite numerous homeschooling facts proving that home education works very well, there are some who make strong accusations against the effectiveness of home schooling.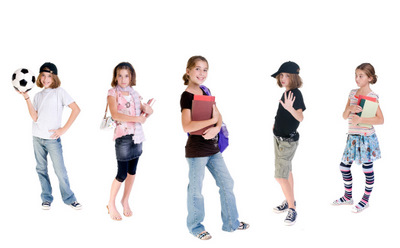 Some even question whether there are any true
homeschooling advantages
or whether the
pros of homeschooling
are forfeited by the
cons
of homeschooling!
This ongoing debate over the pros and cons of homeschooling can become very heated concerning certain homeschooling issues. Unfortunately, it also detracts from the numerous homeschooling benefits that so many families commonly experience once they decide to homeschool.
---
Common Myths
---
our children are not adequately socialized

our children cannot attend college or join the military unless they graduate from a traditional school

parents are required to have a teaching certification or license

our children are "weird" and don't get to attend a prom or receive a homeschool diploma

all home school families are extremists who bake their own bread, sew their own clothes, carry guns, and don't own TVs
---
Getting Homeschooling Facts
---
Some reliable sources that can offer facts about homeschooling who will speak to the home school vs public school debate in a more favorable light and without biases are:
National Home Education Research Institute (NHERI) and Dr. Brian Ray

National Home Education Network (NHEN)

US Dept. of Education - Institute of Education Sciences

Your local educational agency unless it has demonstrated hostility toward home educators
---
Exposing the Socialization Myth
---
True socialization is not grade or age-segregated associations such as you have in a traditional classroom environment, but is the ability to relate to a person of any age, in a social setting.
Also, the majority of educators that I know are not trying to encourage peer relationships within the classroom, but simply want students to complete their assignments as instructed.
Many homeschooled children benefit from participating in homeschool activities like physical education, music,
gymnastics, soccer, basketball, tutorial classes, karate, theater groups, church youth groups, mission trips, and horseback riding lessons, just to name a few.
Home schooled students have plenty of opportunities to interact with others of different ages, such as siblings, friends in their home school support groups, "back to homeschool" picnics, and other activities. Similarly, they spend time during field trips with those of various ages.
---
Please help me to create a Photo Gallery of children participating aka "
socializing
" in
home school activities
, sports or other events. Let this be our visual record of the different things we do with our children and try to set the homeschooling facts in order.
---
Share Your Comments and Pictures
Have you heard of another myth about home schooling that I didn't mention? If so, we'd love to hear it. Also, share some pictures showing your child(ren) socializing with others. Share them here in our Photo Gallery!
What Other Visitors Have Said
Click below to see contributions from other visitors to this page...

Family Members Want My Help Not rated yet
We have been homeschooling for some years now. At first our family and friends thought we were CRAZY to want to teach our children. But, after a few years …
My Children Enjoy Being Schooled at Home Not rated yet
I often hear people ask my children if they would rather be in a "regular school" instead of being home schooled. They suspect that our children are being …
---
Return from Homeschooling Facts to Homeschool Curriculum Home Page
---