Home School Books
There are many great home school books that can be used to build a terrific family library of quality homeschool resources for all grades. These can be easily found online and offline, too, at many new or used book stores.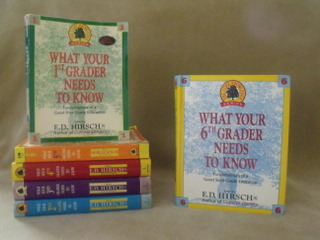 ---
Build a Great Library
---
When I look on our book shelves, I see free resources from over the years and discount home school curriculum purchased from online sites or homeschool curriculum fairs. We have also purchased many of these supplements:
Usborne books

Kingfisher books

Dorling Kindersley (DK) books

Reader's Digest books

Golden Bible storybook
Several distributors for Usborne books have told me that they originally got started in their business because they loved the books so much.
The company also regularly offers fantastic start-up deals for those interested in getting into this type of business.
---
Places to Find Books
---
The majority of these books can easily be found at online sites, garage sales, and even at used home school curriculum sales and sometimes, as freebies at a table. Occasionally, I have even picked up homeschool used books at consignment sales, local thrift stores, and similar places where people sell used books and curriculum.
---
Other Great Finds
---

Christian books for the whole family, entertaining, educational and enlightening!

http://www.christian-books-bible-stories.com

A few other useful books are those in the E.D. Hirsch series, Scholastic 100 Words to Read by ___ Grade, and the large, pictorial Life books found on many coffee tables.
Most of the books I have listed cover all the basic subjects although some are geared toward a specific subject area, such as Bible. History and science topics are presented very nicely in these types of books and is usually done in a more enjoyable way than what is found in home school curriculums.
Although not exactly curriculum items, these complementary homeschool books can make a vast contribution to your overall program. As we teach our children at home we should strive to surround them with as many quality materials as possible.
---
Return from Home School Books to Homeschool Curriculum
Home Page
---