Free Homeschooling Curriculum with the Core Series
Design your free homeschooling curriculum with the help of the books found in the Core Knowledge series by E. D. Hirsch, Jr., author of Cultural Literacy.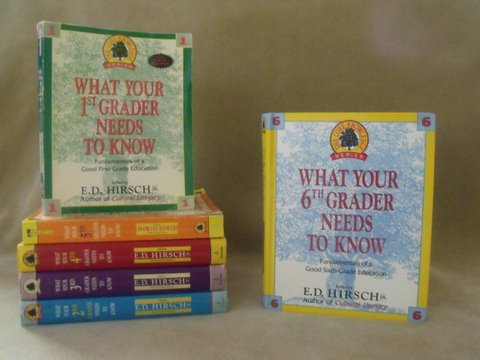 These books offer a detailed and systematic schedule of skills that children are expected to learn in order to succeed in the elementary and middle grades.
One of the many benefits of using the books in this series is that they can easily be borrowed from the public library or found at many used book stores as well.
Also, the excerpts that are mentioned are common books or plays, so those can be checked out of the library as well, if interested.
Dr. Hirsch believes that all children are expected to have a certain "core" of knowledge in order to read and comprehend texts found at the higher levels of learning.
His books are designed to easily satisfy that requirement for parents and teachers alike of children as young as preschool age.
Basically, the series encourages uniform instruction in the areas of Language Arts or English, History and Geography, Visual Arts, Music, Mathematics, and Science in kindergarten through eighth grades.
Despite the very heated debate over the constitutionality of the current Common Core Standards, which were not authored by Hirsch, these books can be used by home educators to give their children a foundational level of understanding in the basic skills.
The core series is an attempt to outline for parents and educators what every child needs to know at each grade to be competitive with others within his/her same grade.
It is more about "leveling the playing field" and closing the learning gaps between groups of people.
Let's take a look at how you might do that using these books to teach a child in the first grade:
The schedule pictured above is just to give an idea of how the Core Knowledge books could be scheduled as the basis of your free homeschooling curriculum in the individual grades.
You would want to add Bible, writing activities, and physical education to complete your entire program. However, these books certainly can be used to lay a basic foundation for what every child needs to learn at the different grade levels.
If you are wondering, this series is definitely secular; however, that could be easily dealt with by having conversations with your children to refute the evolutionary concepts and enforce your Biblical creationist viewpoint, for instance.
This free homeschooling curriculum offers guidance yet still allows the parents or teachers the flexibility to extend each lesson as he/she sees fit. There remains ample space for other supplements to be added to this program.
Free Homeschooling Curriculum in our Home
In our home, I use these books as reference tools mainly, although several of our children have really enjoyed the stories and read them from cover to cover.
I also appreciate the way that the science concepts build upon each other within the books giving a thorough introduction to tougher subjects as your child progresses through the series.
You might also like these pages: