Creative Home School Ideas for your Thanksgiving Words
Discover several ways to use your list of Thanksgiving words to teach, retell, and review the events that led up to one of the most celebrated holiday traditions in the US.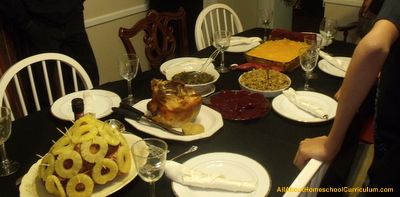 Using a list is a great way to get creative writing and art activities going with your child/ren. Below are some suggested activities to complete with your child using a Word Box of vocabulary surrounding the Pilgrims, Indians, and Puritans, prior to our present-day celebration known as Thanksgiving Day.
Insert some or all of the Thanksgiving words in a Word Box and get started creating your own activities. If you don't already have a word-list to make holiday worksheet activities, feel free to use some or all of the selections below:
01) Pilgrims

02) Plymouth

03) England

04) Mayflower

05) Massachusetts

06) Colonies

07) Miles Standish

08) Indians

09) John Smith

10) Chief

11) Powhatan

12) Pocahontas

13) John Rolfe

14) Jamestown

15) Corn

16) Governor

17) Sickness

18) Hunger

19) Settlement

20) Tobacco

21) Religion

22) Worship

23) Mayflower Compact

24) Liberty

25) Puritans

26) John Winthrop

27) New England

28) Settlers

29) William Bradford

30) Samoset

31) Squanto

32) Massasoit

33) Peace

34) Tribes

35) vegetables



Cursive Penmanship
Choose selections from the word list to use for cursive handwriting practice. You could also include alphabetizing practice or dictionary skills and have them define each word.
Copy Work
Select several of the list words to create sentences to be used for copy work by your child/ren. Have them display their writing around the room during your Thanksgiving Day celebration. Or, they could read their work for guests.
Answer Questions
Create ten questions and choose items from your list words as the answer. Make these as challenging as possible for your children.
Set a timer and make it a race to see who finishes first. Award a small prize for the first person who correctly completes their list of questions.
Recall People or Places
Develop "Who Am I" questions that can be completed by selecting answers from the Word Box. Do the same with the names of places connected with the Pilgrims and Puritan settlers.
Cloze Activities
Create a paragraph with certain words missing from the passage. Have your child select the best words to complete the paragraph based on the time period of the Indians and colonists.
These are just a few of the possible printable activities you could assign or create for your child/ren during the Thanksgiving season. Many of these would also be suitable for other holidays as well, so keep this list of lesson plan ideas for future occasions as well.
---
Don't forget to "like" on FB if you enjoyed this page!

---
Go back to Homeschool Worksheets Page
Return from Thanksgiving Words to Homeschool Curriculum Home Page
---