Cursive Penmanship
Has legible cursive penmanship become another lost art within our society? It doesn't have to be if you use some basic principles to ensure your child develops proper habits and quality cursive handwriting skills.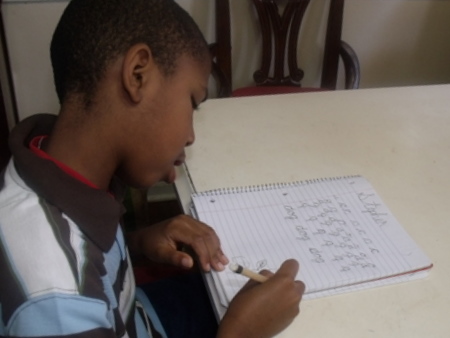 Tell me, have you ever forgotten the image of
John Hancock's
signature on the
Declaration of Independence
? Probably not. What an elegant and gorgeous example of fine handwriting!
---
Motivate With Real-life Situations
---
Some major reasons to encourage your child to have good handwriting and write legibly are so that he can...
write essays and reports

sign his name on checks and documents

complete information on applications and forms


personally correspond with others


---
When to Introduce Cursive Penmanship?
---
There seems to be some debate as to when to teach cursive penmanship to children. Also, many people question whether children should be taught manuscript or cursive first.
For example, the publishers of the Abeka homeschool curriculum favor the early years and introduce it in their kindergarten workbooks!
Secondly, the debate continues as to the order in which the letters should be taught. Some say, "A-Z order," others say, "Teach similar groups of letters at the same time."
---
Another Opinion...Mine
---
I teach all the letters that are formed using same or similar strokes at the same time. It makes it very easy for our children to "see" the patterns. Then, we just have to focus on connecting letters, later on.
I have found several key factors for successfully teaching script letters to children...
require good posture at a desk or table

show the proper placement of the paper

utilize correct practice paper with lines

begin each lesson with a sharpened pencil or pen
---
Our Schedule
---
My schedule for teaching handwriting goes something like this:
Mondays; Review recent letters & introduce new letters(s)


Tuesdays-Thursdays; Introduce & practice new letter(s)


Fridays; Cumulative Review of letters & Copy work


I start teaching in this order: first their signatures and then the lowercase letters by "families."
Next, stick letters: t and i.
Then, loop letters: e, l, b, h, k, and f.
Then, circle letters: a, c, d, g, o, and q.
Then, strokes and hill letters: j, p, r, s, u, w, and m, n, v, x, y, and z.
Finally, I introduce the capital letters and give more practice in connecting letters.
Most of the work is demonstrated on a dry erase board and worksheets are used for additional practice and quizzes.
Some of them include:
---
Go back to Homeschool Worksheets

Return from Cursive Penmanship to Homeschool Curriculum Home Page