Singapore Math
A little more than a decade ago, Singapore Math came on the scene and has become a popular curriculum for home school math among many families. A lot of the "draw" surrounding this resource has to do with the amount of research put into it and the incredibly high test scores students gained after using this method.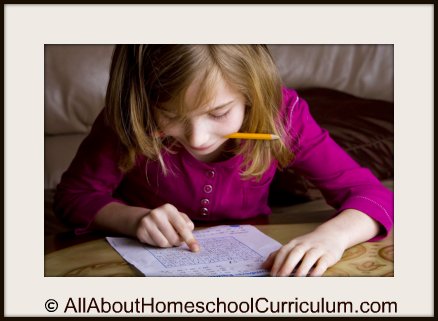 ---
The Premise
---
The Singapore Math (SM) system has been developed to include adult oversight as the child is prepared for eventual independent learning. Their hope is that the child will be prepared for the comprehension of more difficult math concepts.
Because SM strives to familiarize students with concrete relationships prior to the introduction of more abstract ones, a student might be asked to handle eight rods and manipulate them on a magnetic board before being asked to solve the equation "6 + 2 = 8."
Since there is so much attention paid to preparing students to comprehend the abstract ideas presented in math, there are fewer topics covered overall in each component within this series.
SM emphasizes a blend of practicing drills, solving word problems, and completing mental math problems within their books. These are developed so students can work alone but adult assistance can aid the learning process.
---
Primary Math Workbook Series
---
Generally, about three pages from the textbook can be comfortably completed by a child on a daily basis. Afterwards, they are assigned independent work in the workbooks.
This slower pace is a deliberate attempt to encourage mastery as a strong foundation is laid during the earlier years. The later workbooks build upon the concepts taught in the younger grades.
---
What They Offer
---
Placement tests to determine exact level to start

Detailed Scope & Sequence

Descriptive information on website to aid in choice selection

Textbook & workbook Parts A and B

Optional supplementary math books and aids

Separate answer keys

Teacher's guide (with answers)
Facts at a Glance
Contact Info: Singapore Math Curriculum, www.SingaporeMath.com Inc.

Type: Secular Textbooks and Workbooks

Grades Covered: Preschool through High School

Subjects Covered: Math

---
Others Who Carry SM
---
In response to the increased demand for SM resources for the classroom and home school, several US publishers are now offering genuine or similarly-designed materials. Some of those are listed below:
Great Source – Math in Focus series

Sonlight carries some of the books and have written their own "Home Instructor's Guides" as well with detailed steps to follow as you teach concepts

Carson-Dellosa Publishing Co. offers math books based on the Singaporean math methods
This homeschool math program has been studied extensively prior to and since its introduction to the U.S. The quality of this program is outstanding. All elementary students in the country of Singapore use Singapore Primary Math.
It does require some training to get used to some different ways of teaching math. However, after that is done, many home schoolers report that their children enjoy using it and are learning math at a faster rate than that of Math-U-See or even Abeka Math.
If your current homeschool math resource is not doing all these things, perhaps you should take a look at this hugely popular Singaporean homeschool math program.
---
Go back to Homeschool Curriculum Reviews Page

Return from Singapore Math to Homeschool Curriculum
Home Page
---