Use the Saxon Homeschool
Math Program
The Saxon homeschool math program offers resources for primary through high school grades. This highly successful curriculum utilizes a system of instruction, practice, review, and assessment, to encourage retention and mastery of math skills.
Program Features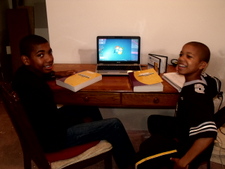 1. free, downloadable placement tests to minimize guesswork of exactly where to begin
2. free sample lessons of books
3. demos of Saxon Teacher videos
4. student textbook and test booklet
5. home study packet with facts practice sheets and answer keys
6. solutions manuals for upper grades with step-by-step solutions
7. optional Saxon Teacher CD-ROM offering video presentation of every problem in the textbook
8. interactive, online activities to practice facts and other skills
Getting Started
First, go to their website, www.saxonhomeschool.com and download a free placement test to determine which book to begin with.
Next, order materials and familiarize yourself with extra resources found at the site.
Then, preview your books upon arrival and determine your lesson plans.
Currently, I have all of my older children in the Saxon homeschool math curriculum in levels 76 through Advanced Mathematics. It has really been an asset to our home school lessons. It is very orderly and works well with us.
Basically, it has become a self-instructional approach with us and I act as their support person when needed rather than a daily teacher who has to teach every lesson.
The pages in the textbook are written to the student and I have taught them some basic tips to progress on their own or search for help when needed.
How we Use Saxon Homeschool for Math
When we begin a new book, they are instructed how to set up their papers to answer the problem set questions. I prefer that they use graph paper or draw boxes and number each one to put their answer in.
They are also told to create a separate math notebook and given directions concerning what needs to go in that notebook. Really, it will become their reference guide for math throughout the year.
As they progress through their textbooks, they are encouraged to write all definitions and material found in bold print or boxes that they come across.
Usually these will be explanations of terms and formulas, so they will have these handy when they forget them later on. If they come to me with such a question, I send them to their math notebook which is where they should have written that information.
If not, they have to find it in their textbook and write it in their notebooks. It is a little more work but it develops independence in them and they enjoy having their answers when they need them.
I also encourage them to study these key points written in their math notebooks in preparation for the tests. It works as a wonderful review tool!
I utilize the facts practice sheets to develop speed and accuracy. I also love the online activities. I do not have the Saxon Teacher supplements for all levels but they are used when needed.
After the lessons have been completed with a minimum 85% accuracy, they can take the test and move on in their book.
Saxon homeschool math program's teach, practice, and test method has worked well with us for many years. It is a very solid program and easy to use.
In addition to all of the features I already mentioned, their books are often found at used book sales because of their popularity among homeschoolers and traditional schools.
So, take a look at their site to see if Saxon homeschool math is the type of program you are looking for.
---
Go back to How to Homeschool Page
Return from Saxon Homeschool to Homeschool Curriculum Home Page