5 Key Homeschool
Resources
I have several great homeschool resources that I consider foundational to our homeschool program. None of these are home school curriculum items, but after the end of every school year I feel compelled to read these again before school resumes. They give me great inspiration and overall knowledge about curriculum planning, family life, and how to homeschool.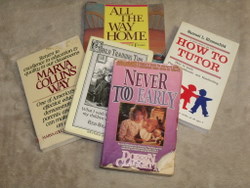 Home School Books
Never Too Early by Doreen Claggett
Marva Collins' Way by Marva Collins
Child Training Tips by Reb Bradley
How to Tutor by Samuel Blumenfeld
All The Way Home by Mary Pride
Each of these homeschool resources has shown me different aspects about home education, family life, and a deeper relationship with God.
Never Too Early has taught me the correct order in teaching. First, you become a disciple of Christ then you can disciple others. Also, it emphasizes that teaching must be done unto God and with a loving and gentle heart!
Marva Collins' Way is such an absolutely beautiful account of a woman's passion for teaching. It humbles me every time I read it. Her resourcefulness is inspiring. I love how she stretches her students to higher levels and they love her for that.
Child Training Tips is a goldmine of information and I am so glad we discovered this treasure while living in southern CA. Reb Bradley teaches us how to train our children for God's usefulness and to effectively manage our homes.
How To Tutor has so much of the "nuts and bolts" of how to successfully teach children and without costly home school curriculum in many cases. It explains how to teach phonics, arithmetic, and handwriting in a very easy manner.
All The Way Home is one of those books that just "feels" good as you are reading it. She covers such a broad scope of information that is pertinent to families. She dispels myths about home education; encourages families in purity, business, and spiritual life; and does it all in a pleasant, non-offensive tone.
Home education encompasses so much more than home school curriculum and testing. It quickly becomes a way of life for the entire family. These resources have been essential in helping me to develop a successful homeschool program for our family.
---
Go back to Start Homeschooling page

Return from Homeschool Resources to Homeschool Curriculum Home Page
---