Print a pdf version of this newsletter. Change your printer's settings to print in black or greyscale if you don't want the color version.


Check us out on Facebook and YouTube now!



Are You an Inspector?



I am not talking about inspecting your child's room. Or, checking to see if they are taking care of necessary hygiene concerns.

I am referring to whether you are inspecting to make sure that all assigned homeschool lessons are being completed?
---
Homeschool Conference
---
The first time I ever heard of this was during a home school conference we attended in CA.
The speaker, Mary T., urged us to develop a system of monitoring the work being accomplished by our children. She explained how it didn't really matter how much we planned because it all came down to:

"It's not what you expect,
but what you INSPECT!"
Boy, was that an eye-opener.
I had mistakenly figured that once I took the time to create the homeschool lesson plans and taught the lesson that was it.
Then, our children would automatically do their part and complete their assignments as given.
That was untrue back then and is still untrue today.
---
---
I have to be sure to monitor their progress and am constantly implementing new methods of staying on top of what is expected and inspected of them.

Most of the homeschool forms I developed were mainly to help keep track of their progress and accomplishments. One form that you might find useful is the home school report card which documents their progress.

Just remember to have a way of visually inspecting and recording their progress.



YouTube Channel



Please let me introduce you to our latest addition to the AllAboutHomeschoolCurriculum site. We now have a dedicated YouTube channel that will provide a single location for our videos. We will share instructional videos and social activities.

Please be patient as I upload them because there is a slight learning curve involved in doing it well, which is always my objective. No mediocrity for our homeschoolers or ourselves, right?

Go check us out on Youtube at: AllAboutHSCurr. Leave a comment and make suggestions, too.



Ever Heard of NaNo?



NaNoWriMo is kicking off on the first day of November!

It is your annual opportunity to write an entire novel within thirty days. Basically, you write and upload fifty thousand original words of fiction.

Their website has tons of information and tips to keep you motivated.
---
Help a Reluctant Writer
---
Our daughters discovered this program a few years ago and have amazed many visitors to our home when they produce their published novels!
It is always helpful when there is an additional source of motivation to complete assignments.
We include NaNo in our writing curriculum and I chauffeur our daughters to the various writing events held at local public libraries and coffee shops.
But, ultimately receiving a copy of their published book in the mail is always the best sense of accomplishment for them.
Give it a try if there is a book in YOU or your children.


What's New @ the Site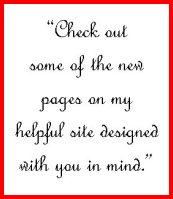 Take a look at these new pages and let me know what you think!





Funny Things Kids Say



If you have ever wondered if your child is listening when you teach math, let me share this account with you.

I was attempting to explain counting by tens to our son with our Math-U-See blocks when he interrupted me with this:

"Two tens make twenty. Three tens is thirty, and if you had four tens blocks, you'd have forty. Do you see the pattern, Mom?"

Of course, I saw the pattern as I had recently explained it to him.

I was so tickled that he was able to teach it to me and also used the same terms that I had used when teaching him earlier.

Who says home schooling your children ALL day every day is not fun? We regularly have laughs like this.

If you are willing to share some of the funny things YOUR children say, please contact me and I will try to include them in this area.



Words From Wayne



Let me introduce you to my husband, Wayne.

The Lord often uses him to teach me things about home education and family although I am the primary educator in the home.

I thought I would share some of his comments here:


Q: What subject(s) do you think you could help out with more in your home school?


A: Since I have a full-time job outside of the home, I leave the daily instruction of the academics to my wife.

She has the skill and availability to consistently instruct our children. My days off vary and it works best for us to have this arrangement.

My area is to teach and instill the character traits in our children. I strive to spend time with each child and to keep order in our home so that learning can take place.

My focus is on helping our children realize their spiritual and personal goals and gifts.

I also work to help them gain knowledge of the principles of finance, business, economics, politics, and more.

As a father, I work to teach them everything I know and all the things I believe they will need to succeed in life and become mature adults.


Stay tuned for more from Wayne in the future.





What a Bounty!!!



My best friend, Windi, could not believe that I allowed our children to have so much candy at one time. I usually try to be the mom who offers healthy snacks and fruits.

But, what was I to do?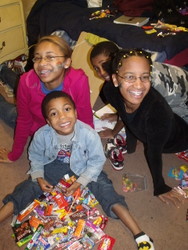 A local church in the community hosted an annual evangelistic outreach program as their alternative to Halloween Trick-or- Treating.
It also happens to be where our two older sons, Isaiah and Wesley, played basketball last season so we had to support them, right?
This is just a sampling of what they brought home after several hours of playing games and having tons of fun. One daughter even won a large jar of candy for guessing the correct number of items in the jar!
In the past, I have always required them to eat some now and save some for later. But, Windi said her dentist suggests that they should eat the candy all at once rather than repeatedly exposing their teeth to that much sugar. So, I changed my stand and they didn't object to that at all.
I'm sure this will become an annual favorite event for our family.


The Back Page
---
Review of Fun Spelling Worksheets for Grades 1 and 2 eBook
---
I recently reviewed a spelling resource written by the owner of the site, Spelling-Words-Well.com.
Read my comments on her eBook here. It is a terrific eBook of spelling worksheets and games that are not generally seen elsewhere.
Take a look at her site which also has a tremendous amount of helpful spelling information, lists, and worksheets.
---
Learning to Knit
---
When our oldest daughter received a beautiful knit blanket at her baby shower, I decided to learn to knit.
Recently a homeschool mom, who also has ten children, offered to teach me how to knit while we wait for our children during their music lessons.
At first, I felt like such a klutz trying to position my hands correctly. But, once she shared a rhyme that was found in her WoolWorks Curriculum, it made sense.
Their instructions on how to knit are:
"In through the front door,
Once around the back,
Out through the window,
And, off comes Jack!"
So simple even I could do it!
I finished my first project already and will start another next Tuesday.
Look for a video on our YouTube channel soon.
---
Help for Allergies
---
During a conversation with a gentleman in the store, he shared a natural home supplement he was using with his family...Raw, Organic Honey!
I am an herbal tea drinker so I already had honey in the house. However, it was the type found in the grocery stores.
He suggested we use the raw (less processed) type from a local beekeeper.
So, off we went to Whole Foods Store and we got even more information about some unknown benefits of raw, local honey.
Needless to say, we purchased several pounds of honey and are using it daily as a supplement for our primary allergy sufferer.
We were also informed that honey is good for the heart.
I really enjoy it in my tea and also in oatmeal. No wonder The Bee Movie is one of my favorites!

Remember, you can visit us now on Facebook and YouTube! ALL ABOUT HOMESCHOOL CURRICULUM - The place for information about homeschool resources and methods!
This newsletter is a labor of love to connect with my readers. I hope to share with you a little more about our family and HOW we homeschool.
Please feel free to send me your questions, comments, kids contributions or reviews to me to be featured in future issues.
Have a great month,
Claudette